NEW DELHI: Gross
GST
revenue receipts in December totalled nearly Rs 1.5 lakh crore, up 15% year-on-year, signalling that demand remains robust and efforts to boost compliance have had an impact.
Data released by the finance ministry on Sunday showed gross GST revenues were Rs 1.49 lakh crore in December, the tenth consecutive month revenues were more than Rs 1.4 lakh crore.
During the month, revenues from import of goods were 8% higher and the revenues from domestic transactions (including import of services) were 18% higher than the revenues from these sources during the same month last year. In November, 7.9 crore e-way bills were generated, which was significantly higher than 7.6 crore e-way bills generated in October, 2022.
Government officials have said they expect buoyancy to continue in the months ahead thanks to the tighter audit and rising compliance and hoped that Rs 1.5 lakh crore would be the "new normal" for GST receipts. Month-on-month there was an increase of 2.5%, the data showed.
The government has settled Rs 36,669 crore to CGST and Rs 31,094 crore to SGST from IGST as regular settlement. The total revenue of the centre and the states after regular settlements in the month of December 2022 is Rs 63,380 crore for CGST and Rs 64,451 crore for the SGST.
The latest data showed that demand remains strong despite worries about a slowdown due to the impact of a string of factors including stubborn inflationary pressures.
Experts also pointed to robust economic indicators which had helped sustain demand.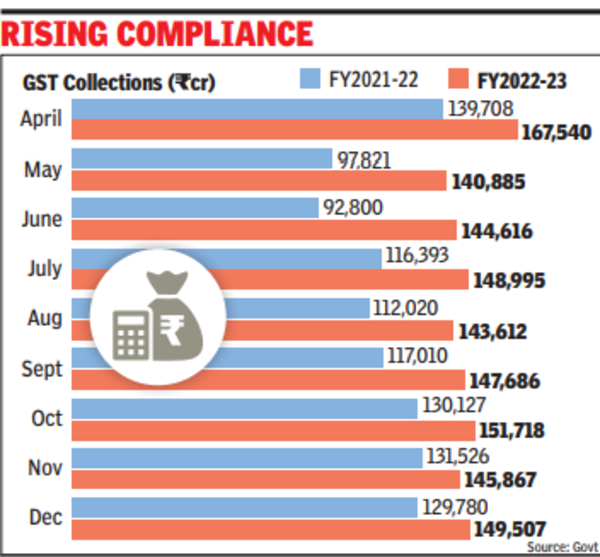 "An 18% increase in the GST revenues from domestic transactions viewed with the increase in e-way bill issuance and the significant increase in GST collections by key manufacturer and consuming states , would be indicative of a sustained manufacturing and consumption cycle across recent months," said MS Mani, partner at consulting firm Deloitte.
"The steady increase in GST collections across recent months, while being reflective of the manufacturing and consumption stability across states, would also tie up with key macroeconomic indicators, which have been pointing to a good economic performance across key sectors," said Mani.
The Centre has also taken a number of measures to plug loopholes and boost compliance which have shown results while the opening of economic activity after the pandemic has revived consumption.