NEW DELHI: Mohammed Shami has featured only in half the matches India have played so far in this ODI World Cup and is still the team's highest wicket-taker, led by his two five-wicket hauls in four games since the right-arm pacer was brought into the playing eleven following Hardik Pandya's injury.
While all-rounder Hardik failed to recover from his ankle injury and was ruled out of the World Cup, Shami has gone on from strength to strength to not just bowl well but actually destroy the oppositions with fiery spells.
Shami has taken 16 wickets in four matches to be placed fourth on the list of tournament's highest wicket-takers so far. Shami's fellow pacer Jasprit Bumrah has 15 wickets in 8 matches. Led by the duo and equally crucial contributions from pacer Mohammed Siraj and spinners Ravindra Jadeja and Kuldeep Yadav, the Indian bowling attack has instilled fear in the opposition batters.
The hosts bowled out Sri Lanka for 55 and South Africa for 83 in their last two matches.
Decoding Shami's strengths and what has been working for him in this World Cup, fast-bowling legend and former Pakistan captain
Wasim Akram
said it's all about the seam position.
(Mohammed Shami – PTI Photo)
"For starters, as a bowler, the confidence at this level has got to be like 'I am one of the best', and these guys (Indian pacers) have that confidence. Once you have that, then all the hard work you have done over the years (pays off)," said Akram speaking on news channel 'A Sports'.
"Shami's every delivery hits the seam, it's not wobbly, just goes straight and kisses the pitch. He doesn't bang the ball in," explained Akram.
Akram detailed Shami's skills further looking at the footage of his over against Ben Stokes in India's match against England.
"Stokes had no clue what to do. Look at his length, came around the wicket to seam (the ball) out and then last ball he brought in. But his length and seam position never changed, off-stump or top of off-stump. Wahi se andar, wahi se bahar (moving the ball in and out from the same spot). That's why he is so difficult."
Stokes was bowled by Shami for a 10-ball duck.
Comparing Shami's art to swing and seam the ball with that of Bumrah's, Akram said: "Bumrah swings with his wrist, Shami with seam; and obviously he has got good pace as well, 142-145 kmph."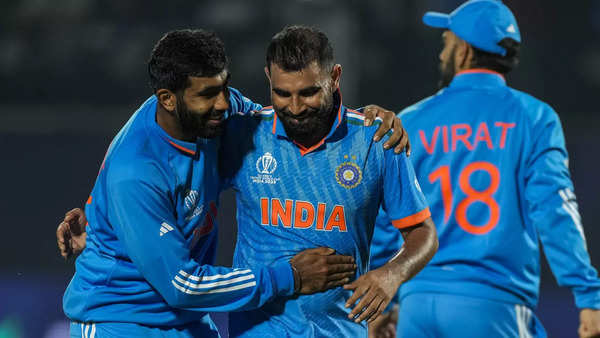 (From left, Jasprit Bumrah, Md Shami and Virat Kohli – AP Photo)
The bowling legend also expressed his disappointment at childish social media comments around Indian bowlers getting different balls compared to other teams in this World Cup.
"This gets quite embarrassing for us," said Akram. "One thing we have to teach the social media generation is that if someone is doing a good thing, then appreciate it, don't do nit-picking."
India, who have already qualified for the semi-finals by winning all their eight matches so far, will take on the Netherlands in their last league match on Sunday. The hosts are already assured of a top-place finish in the round-robin stage.
Australia and South Africa are the other two teams to have booked a place in the semis.