MUMBAI: Across-the-board buying helped the sensex cross the 65,000-level during Sunday's hour-long Muhurat trading session with the benchmark closing at 65,259 points, up 355 points or 0.6% from Friday's close. In percentage terms, the closing was on a par with the trading in the last five years,
BSE
data showed.
The Muhurat trading session, held on Diwali, marks the start of the Vikram Samvat year, the new year according to one of the Hindu calendars that is followed mainly by the Gujarati trading community that dominates Dalal Street.This Sunday marked the start ofSamvat year 2080.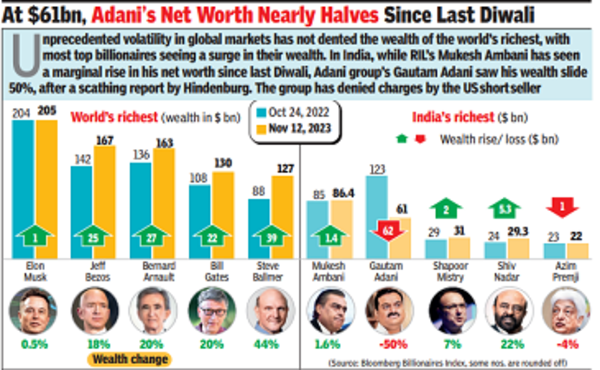 Before the start of the hour-long Muhurat session, BSE holds a Lakshmi Puja at the exchange's Convention Hall, usually attended by brokers, their families and friends.
For the first time this year, the NSE also held a Lakshmi Puja in its exchange premises, along with a formal ringing of the bell to mark the start of the Samvat year. At the end of the session on the NSE, Nifty was at 19,526 points, up 100 points or 0.5%.
According to NSE MD & CEO Ashishkumar Chauhan, Muhurat trading is a testament to the nation's shared financial aspirations. "Each trade made during this auspicious time promises growth and the spirit of unity among investors," he said.
Dalal Street veterans say that on this day those who follow the Samvat year, should always buy some shares, even if in small lots and should never sell any. Since a large number of individual traders and traditional brokers resort to only buying stocks while most of the institutions are closed for Diwali and hence don't trade, the sensex usually shows an uptick during the Muhurat trading session. Historically, on most of the Muhurat sessions the sensex had closed higher. In the last five years, on every occasion the index had closed with gains.
In Sunday's trade, 28 of the 30 sensex stocks closed higher with Infosys, HDFC Bank and Reliance Industries contributing the most to the day's gains. UltraTech and Sun Pharma were the only laggards among the sensex stocks, BSE data showed.
According to Motilal Oswal, group MD & CEO, Motilal Oswal Financial Services, Samvat year 2079 ended with the Nifty gaining around 10%, despite economic headwinds and global geopolitical concerns. "Entering into Samvat 2080, we believe India would continue to shine and expect markets to maintain its outperformance. We believe that over the next couple of quarters, sector rotation would be an important driver along with the overall market uptrend. We expect sectors like BFSI, discretionary consumption, construction & real estate and high growth niche sectors to drive the overall market uptrend," Oswal said.